UMH participates at University of the Fall VI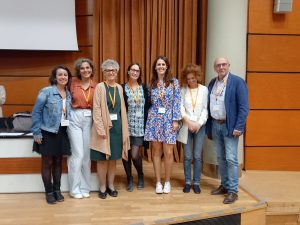 The Vice Rector for International Relations at the Miguel Hernández University of Elche (UMH), Vicente Micol, took part in the inaugural ceremony of the sixth edition of the University of the Fall. The motto for this edition of this inter-university development cooperation workshop was "Research and Cooperation: Motors for Global Change," which took place at the University of Valencia on November 3 & 4. Its aim was to reflect on what universities can contribute in terms of research to NGOs and cooperation agencies. Participants in the organization of this event included the five public Valencian Community universities in conjunction with the Generalitat Valenciana.
At the inauguration, the UMH vice rector was accompanied by Clara Tirado Museros, Director General of International Development Cooperation at the Generalitat Valenciana; Pilar Serra Añó, Vice-Principal for Sustainability, Cooperation and Healthy Lifestyle at the University of Valencia; Rosa María Martínez Espinosa, Vice-President for International Relations and Development Cooperation at the University of Alicante; Elsa González Esteban, Vice Rector for Social Accountability, Inclusive Policy, and Equality at Jaume I University of Castellón; and by José Francisco Monserrat del Rio, Vice Rector for Internationalization and Communication at the Universitat Politècnica de València.
During the session of November 3, expert discussions were had between university researchers and social entities to ascertain what aspects, lines of research, and expertise are required by NGOs, and what universities can contribute in terms of research to development cooperation in order to create synergies for the upcoming call for research that will be announced by the Ministry of Participation, Transparency, Cooperation, and Democratic Quality at the Generalitat Valenciana. The topics of discussion included Hunger Zero; Production & Responsible Consumption; Health & Gender; Education and Innovation & Reduction of Inequalities; Peace; and Justice and Solid Institutions. Participating on behalf of the UMH was Lucy Anne Parker, who is an expert in the area of Health and Gender.
On day 2 of the workshops, November 4, UMH participants included research personnel in addition to staff from the Service of International Relations, Development Cooperation, and Volunteerism. The conclusions from these workshops were then presented at the Generalitat Valenciana at the Cooperarium Workshop on the afternoon of November 4 at the Plaza of the Valencian City Hall.