NeurotechEU ventures in new dimensions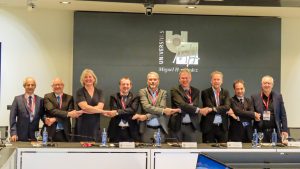 The Board of Rectors Meeting hosted by the Miguel Hernandez University of Elche (Spain) concluded with an agreement on the strategic goals for the alliance. The past two years at NeurotechEU have been dedicated to envisaging this pan European university project, a time that has resulted in the consortium taking its first organizational steps. Now, its shared vision for the future has begun to emerge with the operationalization of neuroscientific and neurotechnological dimensions that will help the alliance tackle current and future neuro challenges related to the health and research on the brain in all its facets.

The rectors outlined that the consortium has grown stronger through the materialized interest of leading European universities, which has given birth not only to the consortium's expansion but also to an ecosystem of academic and industrial partners committed to implementing the NeurotechEU promise. In the recent meeting, the alliance consented to the accession of Lille University (France) and Reykjavik University (Iceland) as full partners of NeurotechEU.
The following steps all partners have agreed to concern deploying a pilot of Campus+, the online tool with which NeurotechEU students and faculty access learning materials, search for available courses, and expand their research collaborations.
The recently created NeurotechEUdimensions, such as empirical and clinical neuroscience, neuroinformatics, neurorobotics, etc., will aid researchers to organize work around identified neuro challenges, as well as map the current state of knowledge and education concerning societal needs for solutions.
Another priority set by the Board of Rectors agenda was student mobility. The alliance agreed to further promote mobilities for students and staff through better communication of educational offers and opportunities at partner universities. Also, the partners set ways for the implementation of quality assurance and evaluative activities throughout the consortium.
During the upcoming months, all partners will wholeheartedly support Radboud University in establishing a consortium for the proposal "NeurotechEU++" (phase 2), which will be submitted to the call of European Universities – Intensification of prior deep institutional transnational cooperation (Topic 1), topic ID: ERASMUS-EDU-2023-EUR-UNIV-1.