UMH welcomes the director of Popular and Indigenous Cultures of Tabasco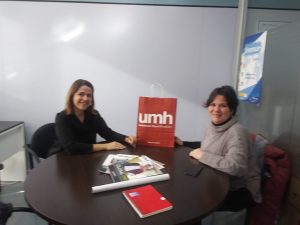 Last week, the Miguel Hernández University of Elche (UMH) welcomed Elisabeth Casanova García, the Director of Popular and Indigenous Cultures at the Secretariat of Culture of the Government of Tabasco (Mexico). She is also a teacher at the Popular University of Chotalpa, which is also located in Tabasco.
Notable activities that Elisabeth Casanova carried out on the days that she was at the UMH (November 24 – 30) include the visit she made to the Service of International Relations, Development Cooperation and Volunteerism, to meet with its director, Inmaculada Blaya, along with Ms. Casanova's participation in the seminar, 'The Economic Perspective of Culture,' for the Bachelor's in Business Administration and Management of Orihuela.
Ms. Casanova also held meetings with the people responsible for the Prosperity Chair of Cooperation and Sustainable Development and the Roemmers Ibero-American Chair of Cultural and Creative Industries for the development of common initiatives.
The visit by Ms. Casanova was helped made possible thanks to AIEFI grants from the Vice Rector for International Relations.