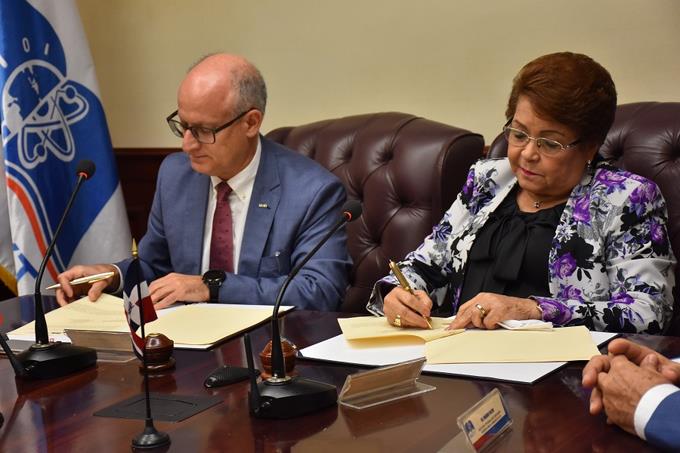 The Miguel Hernández University of Elche (UMH) and the Ministry of Higher Education, Science and Technology (MESCyT) of the Dominican Republic have signed a specific agreement that will enable academic cooperation between both institutions. Through this agreement, established by the UMH Vice Rectorate for International Relations, the MESCyT will offer scholarships to train Dominican professionals in master's and doctoral programs offered at the Elche university.
Signatories to the agreement included Alejandrina Germán, MESCyt minister, and Vicente Micol, the UMH Vice Rector for International Relations. In assessing the significance of the agreement, Minister Germán stated that this action represents part of the commitment by the ministry to collaborate in improving training levels for Dominican professionals, and thus contribute to development within that country. The agreement prioritizes specialization in the areas of science and engineering, education, health, agro-food, biotechnology, and research.
The parties agreed to offer a maximum of twenty scholarships in classroom, blended, and online graduate programs. As the corresponding programs are recognized by the National Agency for Quality Assessment and Accreditation of Spain (ANECA), the qualifications conferred therein to their graduates will be official, and possess the necessary recognition and validity.
Another aspect the agreement contemplates includes the MESCyT covering expenses for room and board in cases of classroom and blended academic programs.
During its visit to the Dominican Republic, The UMH delegation also signed framework agreements with the Dominican Institute of Agricultural and Forestry Research (IDIAF) and the Institute of Innovation in Biotechnology and Industry (IIBI). While there, the delegation also visited with Miguel Mejía, Minister of Regional Integration Policies of the Dominican Republic. In addition to Vicente Micol, the UMH representation was comprised of Joaquín Pastor, Ibero-America Espejo Program Director; Fernando Borrás, Academic Director of the Virtual Environment of Nanocourse Education; and Tonia Salinas, Director of the Scientific Park.
The agreement with the IDIAF aims to further collaboration activities in the areas of research, transfer of technology and innovation, and in promoting Dominican agricultural and forestry research. The agreement opens the door for the UMH and IDIAF to undertake joint research projects, in addition to joint programs to transfer technology and innovation, investigator and administrative exchanges, and training & continuing education programs. Both institutions have defined work on the handling, conservation, and rational use of plant genetic resources, food security, animal production, and biotechnology as priority items.
Furthermore, the agreement with the IIBI will facilitate cooperation for investigator mobility along with collaboration in research projects of relevance in the area of biotechnology.
The stay by the UMH representatives in the Latin American country also allowed promoting the language platform of the Language Center in addition to the nanocourse virtual learning environment at various governmental and university institutions within the Dominican Republic.
25 November 2019
Comments off