UMH REPRESENTATIVES ATTEND NAFSA IN THE USA TO PROMOTE UNIVERSITY INTERNATIONALIZATION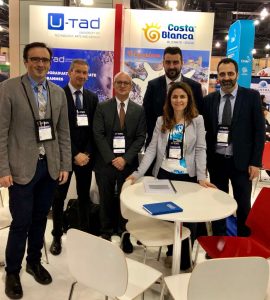 The Vice Rector for International Relations at the Miguel Hernández University of Elche (UMH), Vicente Micol, along with the director of the Service of International Relations, Development Cooperation and Volunteerism, Inmaculada Blaya, participated at the 2018 NAFSA Conference held last week in Philadelphia (USA). The UMH objective for attending this event, which annually attracts more than 3,500 institutions from 100 different countries, was to enhance UMH internationalization efforts.
The UMH participated in this event in coordination with the Patronato Provincial of Costa Blanca Tourism and the University of Alicante. During the event, the UMH delegation met with 25 universities from 13 countries, 15 of which already maintain some kind of agreements for mobility for university students, staff, and faculty. Some other results of their meetings include new agreements with 8 institutions and an additional 4 agreements with partner universities. Of these 12, four are located in Latin America, two in the Asia-Pacific region, four in the United States, and two are in Europe.
Educational institutions the world over expressed their interest in UMH educational programs and in the possibilities for future collaboration. Among others, 9 requested proposals for Study Abroad programs, 8 did so for internships, and 4 asked to collaborate at the UMH in Erasmus+ KA107 projects. As for options concerning mobility for both students and graduates, the interest by American universities in requesting training stays at the UMH is noteworthy.
Furthermore, several Latin American institutions showed interest in implementing UMH master's programs at their universities or in developing joint graduate-level programs with this university.