UMH participates in activities commemorating International Volunteer Day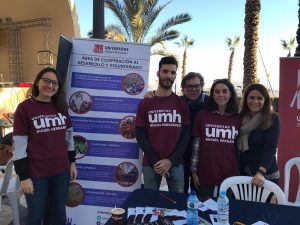 The Area of Development Cooperation and Volunteerism of the Vice Rectorate for International Relations at the Miguel Hernández University of Elche (UMH) took part in activities to commemorate International Volunteer Day, which is celebrated every year on December 5. These particular activities, held on November 30 in Alicante by the Volunteer Coordinator of the Valencian Community, were a meeting space that facilitated making volunteering efforts by provincial NGOs and institutions, such as the UMH, visible.
Attendants at the event included the Director of the Service of International Relations, Development Cooperation and Volunteerism, Inma Blaya, and the Development Cooperation and Volunteerism Area Director, Juanjo Ballesta. Both of these attendees stressed the importance of fostering university collaboration with third-sector organizations. Moreover, visitors to the activities were able to learn firsthand about development efforts the UMH carries out in Rwanda, thanks to the testimonies of Irene Payá, Rocío Martínez, Arturo Terol, and Anabel Soler, four university volunteers who this past summer participated in the UMH International Development Cooperation Volunteer Program in that African country.
The UMH, in various fields of action, works on promoting volunteerism by the university community and in publicizing campaigns that help raise awareness and train students on issues of cooperation.