Deputy Director of International Relations at Gomel State University (Belarus), Anastasiya Sachkouskaya, visited the Miguel Hernández University of Elche to learn better about the UMH installations and facilities related to occupational therapy, due to the close links this Belarusian institution maintains with its Spanish counterpart in this area and the projects that both universities are working on jointly.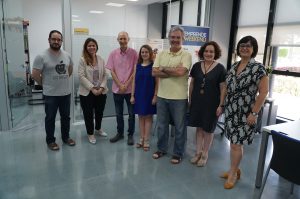 During her visit, Sachkouskaya toured the Occupational Therapy facilities on the San Juan campus in addition to private clinics of this science that are linked with the UMH. She also visited the Service of International Relations, Development Cooperation and Volunteerism as well as the Occupational Observatory on the Elche Campus of the UMH.
This action was part of international mobility activities organized by the UMH Occupational Therapy undergraduate program, which maintains collaboration agreements with the University of Gomel.
28 June 2018
Comments off