UMH RECEIVES A VISIT BY FLORIDA ATLANTIC UNIVERSITY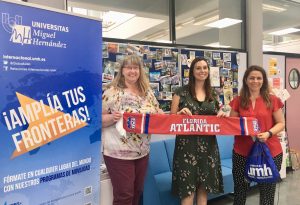 Representatives of the Miguel Hernández University of Elche met with the Director of Education Abroad at Florida Atlantic University (USA), Madison McShane, with the objective of establishing international links via the mobility of students between both universities.
FAU is home to more than 30,000 students who are enrolled in programs present at UMH faculties, and include fine arts, social and legal sciences, and experimental sciences.
During the visit, Inmaculada Blaya, Director of the Service of International Relations, Development Cooperation and Volunteerism, along with Ursula Kress, a technician from the same service, discussed with Ms. McShane various internship programs aimed at the internationalization of foreign students.
One such internship program lasts three months and consists of both in-house training, taking place at departments, institutions, units, and administrative services, along with external oriented training at spin-offs or startups at the UMH Scientific Park. This internship is completed jointly with the University Expert in Professional Competencies, Employability and Entrepreneurship program at the UMH.
During the program, students, trained within a professional environment and guided by tutors, have the opportunity to visit important businesses from the province of Alicante, take an intensive Spanish language course, and enjoy various cultural and leisure activities at multiple locations throughout the province.
While she was here, Ms. McShane had a guided tour of Elche Campus facilities. Among others, she visited emblematic campus buildings, including Altabix, the Rectorado, and La Galia.