UMH participates in annual meeting of Rectors of the Neurotechᴱᵁ European University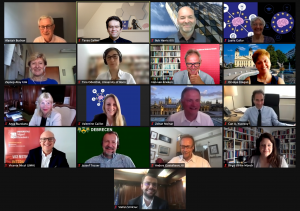 Vice Rector for International Relations at the Miguel Hernández University of Elche (UMH), Vicente Micol, along with professor and member of the NeurotechEU project, Juana Gallar, took part in the annual meeting of Rectors of The European University of Brain and Technology (Neurotechᴱᵁ).
Vicente Micol acted on behalf of UMH Rector, Juan José Ruiz, who due to scheduling conflicts, was unable to attend. This meeting took place on June 11, 2021, and consisted of three sessions.
The first session discussed the achievements to date and the main challenges facing this alliance at the respective universities. In the second, they addressed the priorities of the universities for future NeurotechEU actions. Lastly, the third session focused on ways forward to enhance cooperation, and opening NeurotechEU to other units at the member universities, as well as additional universities, for when the project moves to an expansion phase.
The UMH has stated all along that NeurotechEU is an institutional and multidisciplinary project, open to the entire university community in which various areas of knowledge converge. In their final session, all consortium partners opted to promote virtual teaching, mobility, and blended learning, as well as the establishment of a learning center not only for university students, but also for professionals related to Neuroscience.
The European University of Brain and Technology (Neurotechᴱᵁ) is a project in which the UMH is a partner in a European consortium comprised of 8 universities. Researchers from the Institute of Neurosciences are leading UMH efforts, and this initiative is bringing together faculty and researchers from the areas of neuroscience and other fields, including engineering, food technology, law, sports, fine arts, technicians from the services of Quality, Communication, that of International Relations, plus the Vice Rectorate for International Relations at the UMH. Neurotech aims to create an interuniversity campus, a flexible space for higher education shared by universities wherein education is linked to research, innovation, and society. This project enables Erasmus+ mobility at all levels, and given its transversal nature, involves the entire university.
Learn more about Neurotechᴱᵁ by clicking here.