Neurotechᴱᵁ Opens the Registration Period for the Three Minutes Thesis Presentation Competition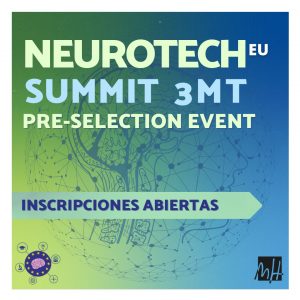 The European University of Brain and Technology (Neurotechᴱᵁ), of which the Miguel Hernández University of Elche forms part, has opened the pre-selection period to participate in the Three Minute Thesis competition (CMT), a contest wherein participants must present their research in just 180 seconds.
For this event, six contestants will be chosen whose purpose will be to present their bachelor's, master's, or doctoral thesis all the while following the methodology of the Three Minute Thesis that was created by the University of Queensland.
The registration period finishes on September 24 and the six participants will be designated based on the order that they arrive. On October 8, the candidates selected to participate in the preselection session will be announced, which will take place on October 23. Ultimately, the championship will be held virtually on November 23.
Registration for the contest is free and interested individuals can complete their application at this link. If you have any questions, you may contact the organizers by email at 3mt@theneruotech.eu.
This event will take place online and it will be broadcast over the crowdcast.io platform. Each session will be recorded on video, so participants must fill out a transfer form.
The European University of Brain and Technology (Neurotechᴱᵁ) is a project in which the UMH is a partner in a European consortium comprised of 8 universities. Researchers from the Institute of Neurosciences are leading UMH efforts, and this initiative is bringing together faculty and researchers from the areas of neuroscience and technology, technicians from the Service of International Relations, plus the Vice Rectorate for International Relations at the UMH.