Registration period open for Welcome Days for incoming students at the UMH
| | | |
| --- | --- | --- |
| September 1, 2021 12:00 pm | to | September 8, 2021 12:00 pm |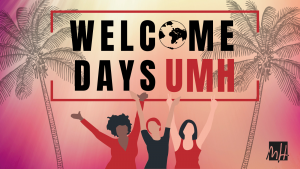 We cannot welcome you personally and face-to-face just yet, but just the same we wholeheartedly want to welcome you to the UMH.
Go ahead and sign up for Welcome Days, where we will be providing lots of tips so you can maximize your international experience with us. The sole requirement is that you have been admitted as an incoming student at the UMH.
On September 14 – 16, 2021, we will be waiting for you from 9:00 – 10:30 a.m. local time so you can begin learning about our university. During these days you can find out about the services for students and the people who manage them, the possibilities for finding housing, the university facilities and athletic and health offerings, campus libraries, restaurants, cultural offerings and our Erasmus Club. This will help you integrate and help you meet the people who will be your classmates next school year.
We have prepared virtual meetings over Google Meet with all UMH personnel who will resolve your doubts, along with lighter activities, during sessions lasting a little bit over an hour each morning. We hope you find them interesting and useful.
You may already sign up and consult the programming for each day at the following link: WELCOME DAYS PROGRAM
Registration form: https://forms.gle/o1en5wA7f73ziTjc9