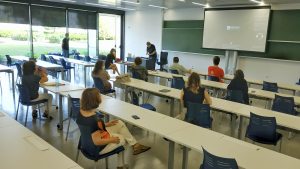 The Miguel Hernández University of Elche (UMH) has held a workshop-meeting with associations from around the Province of Alicante.
This workshop, led by Development Cooperation and Volunteerism Director, Juan José Ballesta, aimed to show these associations how they can implement the 2030 Agenda, and thus, the Sustainable Development Goals, as well as them reflecting the SDGs in documentation that may later be required by governmental agencies. Moreover, this event also served as a meeting point to strengthen current and future ties of cooperation.
Participating associations in this workshop-meeting included Fundación Elche Acoge, Cáritas Elche, Fundación Salud Infantil Elche, Plataforma de Ayuda a Personas Refugiadas de Elche, Plataforma del Voluntariat de la Comunitat Valenciana, Asociación de Voluntarios ENFERSER, and the Asociación de Padres de Niños con Cáncer de la Comunidad Valenciana (ASPANION).