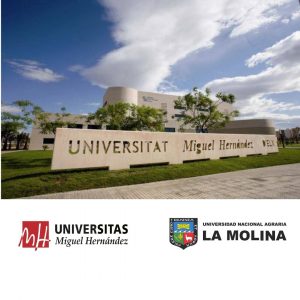 Vice Rector for International Relations at the Miguel Hernández University of Elche (UMH), Vicente Micol, welcomed 40 students from the National Agrarian University – La Molina (UNALM) of Peru, who were selected to participate in the Digital Technologies and Innovation for the Agro-Food Sector Study Abroad Program at the UMH.
Local participants accompanying the vice rector in the virtual welcoming ceremony, which was held on September 16, included Dr. Fernando Borrás, Academic Director of the Nanocourse Virtual Environment for Learning; and Dr. Joaquín Pastor, Ibero-America Espejo Program Director. UNALM participants at the ceremony included the UNALM Rector, Dr. Américo Guevara; Academic Vice Rector, Héctor Gonzales; Vice Rector for Research, Dr. Patricia Gil Kodaka; and economist, Yeny Moya, who is also the Director of Interinstitutional Management and Global Affairs Office.
During the event, Vice Rector Vicente Micol highlighted the benefits that training of this type can bring to students, in addition to it facilitating internationalization in their curricula vitae. Along these lines, he pointed out that the program has updated content on the agro-food sector, with a focus upon sustainability, digitization, innovation, and entrepreneurship. Micol also added that 25 of the finest instructors on this topic at the UMH would be leading the classes.
For his part, Dr. Fernando Borrás mentioned that by program end, the students would obtain the best professional skills.
Furthermore, Micol also mentioned that despite the difficulties caused by Covid-19, due to newly installed infrastructure, the Miguel Hernández University was able to convert its structures to fully virtual teaching in just two weeks' time, a significant digital transformation of UMH programs and teaching content.
Finally, Héctor Gonzales and Joaquín Pastor thanked the cooperation between both institutions and wished the grant recipients in the program much success.
The 40 students were selected by the 2021 Academic Excellence and International Program, which received funding the Peruvian Ministry of Education, to provide its students with opportunities to learn at a foreign university within the Top 200 worldwide rankings in this area, as is the UMH.
The first agreement between the UMH and UNALM was signed in 2013. Since then, several students have undergone exchanges in UMH undergraduate programs, including Food Science & Technology and Agro-Food & Agro-Environmental Engineering. Students have also enjoyed stays as parts of dual doctorate programs borne out of bilateral agreements.