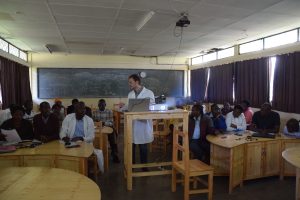 In this, the ninth edition of the volunteerism program in Rwanda, the group of participating UMH students and alumni has been providing informative sessions on health and hygiene to family members of patients at Nemba Hospital during the month of July.
Likewise, at the same hospital, informative talks on cleaning operating rooms have been given to personnel who work there, and podiatry consultations are offered during weekdays. The volunteers also provide assistance at its psychiatry and pediatrics units, and in the latter, they took part in adding artistic murals to its walls.
In addition to these activities, classes for the faculty at ESSA Ruhengeri Public High School have begun that are teaching them English, illustrating teaching materials, and training them on the techniques and use of graphic design programs.
These efforts are the result of an exchange of ideas between the Development Cooperation and Volunteerism Director, Juan José Ballesta, the group of volunteers, and those responsible for the various institutions with which the UMH collaborates in Rwanda. Such an exchange enables responding to the training and health requirements of the Rwandan population.
To better serve international cooperation efforts, the volunteers receive training during their stays on development cooperation, history, the social and political situation of the African continent, and more specifically, of Rwanda.