MORE THAN 3,000 PEOPLE WATCH THE WORLD HAPPINESS FEST DISCUSSION ON 'UMH ACCOMPANIES YOU'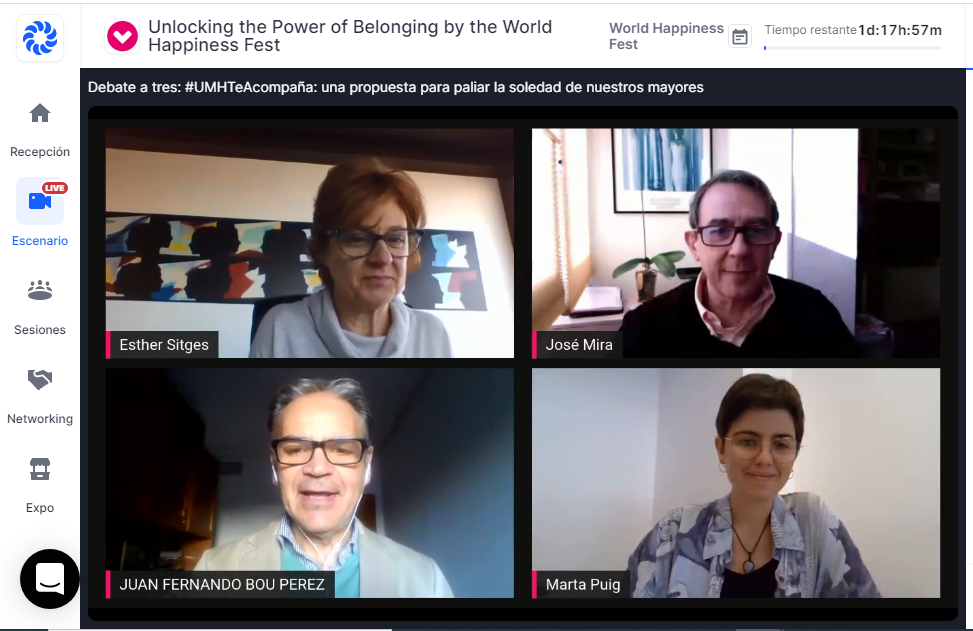 Last Friday, November 20, 2020, more than 3,000 people from 60 countries viewed the discussion on how the Miguel Hernández University of Elche (UMH) is helping to combat loneliness in the elderly with its 'UMH Accompanies You' program. UMH Accompanies You began in March, and it has been offering telephone call support to isolated and vulnerable groups during the current health crisis. The discussion about this program opened the Unlocking the Power of Belonging international summit at the World Happiness Fest.
Participants in the discussion included UMH associate professor of educational and evolutionary psychology, Esther Sitges; UMH professor of social psychology and coordinator of the aforementioned program, José Joaquín Mira; and volunteer from the program and student in the UMH Master's in Development Cooperation, Marta Puig. This program has been quite successful, as the numbers of people who offered to volunteer has been high.
During her intervention, Esther Sitges pointed out that more than 4 million people live alone in Spain, of which one-half are seniors over the age of 65. "According to researchers, the best way to eliminate prejudices associated with aging is through intergenerational contact," said Sitges. She also highlighted that these kinds of programs can help "stop the prejudices associated with aging."
In this sense, volunteer Marta Puig affirmed during her intervention that "UMH Accompanies You is an intergenerational tool that helps us discover new contexts and environments that are beyond our own comfort zones."
The speakers also positively assessed the reception for the program from the very beginning, as during its first four days, more than 200 volunteers had signed up. According to José Joaquín Mira, "collaboration with the Spanish Red Cross was essential, because the UMH wanted to create a program of this type, but the university did not have the infrastructure necessary for it."
To conclude, Sitges ended the intervention by highlighting the hope that UMH student bodies participate in these programs when she stated, "universities are tools that are not only charged with transmitting knowledge, but additionally values. With these programs we can achieve the happiness that is sought."
The Unlocking the Power of Belonging international summit that is part of the World Happiness Fest is a global forum for global wellbeing that attracts experts on the topic, including scientists, politicians, artists, and business leaders from more than 80 locations around the world, and who are aligned with the Sustainable Development Goals of the United Nations.
The discussion by the UMH contingent may be watched by clicking on this link: UMH Accompanies You, a proposal to alleviate loneliness in our elders.