High participation in UMH basic volunteering training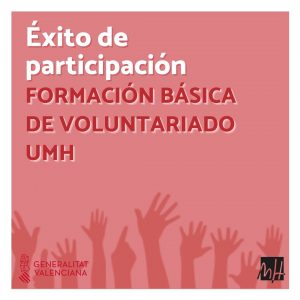 Close to 150 people participated in the Basic Volunteering Training course given by the Area of Development Cooperation and Volunteerism at the Miguel Hernández University of Elche. Initially, this course was expecting some 30 participants, but due to the high interest, and to better accommodate those interested in taking part, two separate sessions of this event were held: one in the afternoon hours, from March 29 – 31, 2021, and the other during morning hours, from April 14 – 16.
These sessions provided training on the basic aspects and concepts of volunteerism, the requirements that volunteers must fulfill, and the legal system of their interactions with volunteering entities and with people who are recipients of volunteering efforts, the Sustainable Development Goals of the 2030 Agenda, and the value of volunteering as a tool to implement the SDGs. Furthermore, after the theoretical lectures, the attendees demonstrated the knowledge they attained by submitting a work assignment.
This training activity was given by Jaime Gonzálvez, the territorial delegate of the Valencian Community Volunteer Platform (PVCV); Amparo Pedraza, a representative of the Jovesólides entity belonging to the Valencian Coordinator of NGDO; and Juan José Ballesta, Development Cooperation and Volunteerism Director at the UMH.
According to surveys conducted with the attendees after the activity, 60% considered the role of the volunteer and third-sector entities to be very important, and 95% of them said that the training met their expectations. Of those in attendance, 80% were students.
This action is part of the UMH University Development Cooperation program that is funded by the General Directorate of International Development Cooperation at the Ministry of Participation, Transparency, Cooperation and Democratic Quality of the Generalitat Valenciana. Furthermore, the training is also part of the Itinerary for Volunteers at the UMH. This itinerary is a process of experiential learning, which is dynamic and flexible, with different milestones for comprehensive learning of the aspects of voluntary actions and international development cooperation.
This action promotes the following SDGs:
Goal 4. Quality Education
Goal 17. Partnerships for the Goals