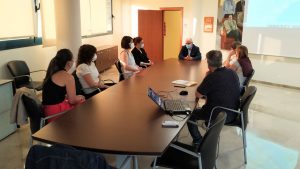 The Miguel Hernández University of Elche welcomed representatives from the Severo Ochoa high school of Elche in addition to a delegation from the French high school of Victor Hugo (Auby, France). The visitors were here to learn about our university and to discover how the Spanish educational system operates.
Vice Rector for International Relations, Vicente Micol, welcomed the representatives from both schools in the Meeting Room of the Rectorado & Consejo Social Building.
Micol highlighted the value added that mobility program initiatives offer for both faculty and students alike, because internationalization is a reward that not only pays off academically, but also vitally and culturally.
Following the initial greetings, staff from the areas of International Relations, Development Cooperation and Volunteerism gave presentations to the visitors about the history of this university, the education it offers, locations of its various campuses, plus other details about the university, including agreements with other universities, mobility programs, and UMH positions in international rankings.
Afterwards, the group toured the main buildings on the Elche Campus, plus its athletic installations, libraries, green spaces, and the cafeterias that comprise it.
The Severo Ochoa high school is a pioneering center in bringing mobility programs closer to secondary education, as since 2014 it has participated in the European Erasmus+ program for teachers and students. Because of this, it has grown relationships with centers throughout Europe.