UMH Club Erasmus visits Island of Tabarca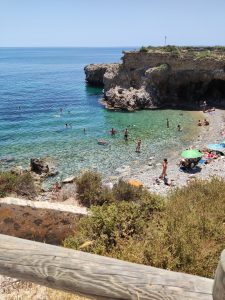 The UMH Club Erasmus at the Miguel Hernández University of Elche, which is part of the university's Service of International Relations, visited the Island of Tabarca yesterday, June 1, 2022. Among the leisure activities that this club is planning, the current month of June began with a trip for snorkeling and enjoying ocean views from this small island off the coast of Alicante.
María Haba, the club coordinator, assessed this activity as being "very interesting for all UMH incoming students as they were able to visit one of the Province of Alicante's most impressive environments that is this island, which is also a nature preserve." Taking advantage of this excursion and visiting the island were close to 30 incoming students, who enjoyed a unique getaway and got to see up close another part of Alicante's natural heritage.
The main objective of the Club Erasmus is to offer incoming students culture and leisure activities, taking them to places around the Province of Alicante, as well as so they can get to know their fellow incoming students and make new friends. On this occasion, there were international students hailing from Chile, Colombia, Mexico, and Germany, among others; Spanish students came from various cities around the country, including Barcelona.