2022-2023 UMH SICUE Financial Aid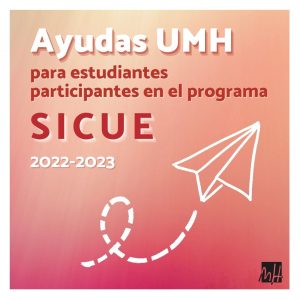 The Vice Rectorate for International Relations at the Miguel Hernández University of Elche (UMH) hereby publishes the call for UMH financial aid for student participants in the SICUE 2022/2023 national mobility program.
The period for submitting applications runs for 10 work days that begin counting on September 21, 2022.
The process for submitting applications, as detailed in section 5, APPLICATIONS (LOCATION, PERIOD, AND DOCUMENTATION) from the call for financial aid RR_02237_2022, as published in the Official Gazette of the UMH on September 13, 2022) is as follows:
Applicants must submit their applications via the Electronic Registry of the Electronic Office of the UMH, taking advantage of their electronic certification or their UMH user account. To do so, they must access the procedures for GRANTS, SUPPORT-National mobility programs for students.
For further information for this mobility program is available at the following page: